Tracklist for the new album!
  1.     10 Cool Commandments   2.    Friends   3.     Heroes and Heroines   4.    I Like   5.     When I'm Older   6.     Frustration   7.    "That's Not Appropriate!"   8.     Playtime   9.     Bread & Cheese   10.  The Lady of Shalott   11.  Horror   12. Boys and Girls   13.  Stars   14.  I am a Traveller  
"WHAT I LIKE ABOUT POWER TO THE PUPILS 1.You get to go on the computer 2. You..."
– Romel & Ciar
"Talk to a friend, that's a solution. Talk to your parents that's a..."
– Ciar
"Power to the Pupils" have been discussing...
Here are some words we associate with being frustrated: Disillusioned Depressed Sad Angry Annoyed Deflated Irritated We discussed – 'What frustrates you?'   People not listening Being bored Trying to work and being interrupted Teachers who shout for no reason When I can't think of any good ideas Asking for help and getting told off Missing my break When adults ask me for a favour and...
Report by Tyler
On the 26th November 2012 an MC came to the Power to the Pupils meeting and showed us ways to make our raps better. He said you can use similes. He helped us with our raps. He shared some of his raps from his latest album, which was good, and encouraged us to share our work more often and not feel shy when working together as a team. We also made a group rap about heroes and friends. Awaté showed...
Guest MC visits Power to the Pupils
  Last week, an MC came to our Power to the Pupils meeting and shared a rap that is going on his new album.  He gave us advice about how to make our raps better. He showed us new ways to write raps using similes and rhyme.  His name was Awaté. He told us how he comes up with ideas and looks for words that go well together.  He wrote two verses for our album – 'Friends' and 'Heroes'....
Watch
Last Monday, Awaté visited Power to the Pupils. He wrote two verses for the album. This is his verse for 'Heroes and Heroines'.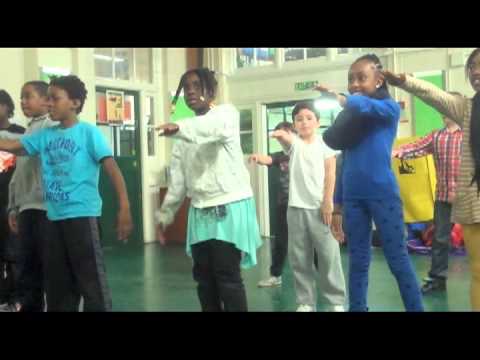 Jam Motion Crew visits Power to the Pupils
Last Monday, Power to the Pupils did some break-dancing with the Jam Motion Crew. The crew was led by Kengo Oshima. There were four dancers in the crew, Yoshi, Remz, Laura and Kengo. They all had different dance styles.  First of all, Kengo and Remz taught us a routine and showed us their moves.  Kengo showed us B-boying. We also saw popping, krumping, backflips, candy and the running man.   Power...
Watch
Playtime. This video doesn't play too smoothly, but we thought it was still worth sharing!
"My bars are as scary as…" This...
A Simile Freestyle with Year 5 members of Power to...
"We looked at Gillian Wearing's artwork 'Signs that Say What You Want..."